25 year warranty registration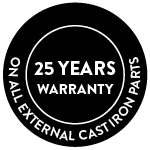 Jøtul extended warranty
Did you know that since 1853, Jøtul has been known for producing high quality stoves and fireplaces, with a long service life? Our wood stoves are made from the finest materials available, to give you the best product. We are so confident in our quality that we offer our customers a free, extended warranty.
By registering here you will receive an extended warranty on your fireplace from Jøtul. Jøtul's extended warranty is something we offer you free of charge. This warranty does not limit your rights pursuant to national legislation governing the sale of consumer goods.
See Jøtul's full warranty conditions for more information.
Warranty information
- Cast iron fireplaces have a basic 5-year warranty on external castings, Jøtul provide an extended warranty of 25 years by registration.
- Register the wood stove within 3 months of purchase.
- All inquiries must go through a Jøtul dealer.